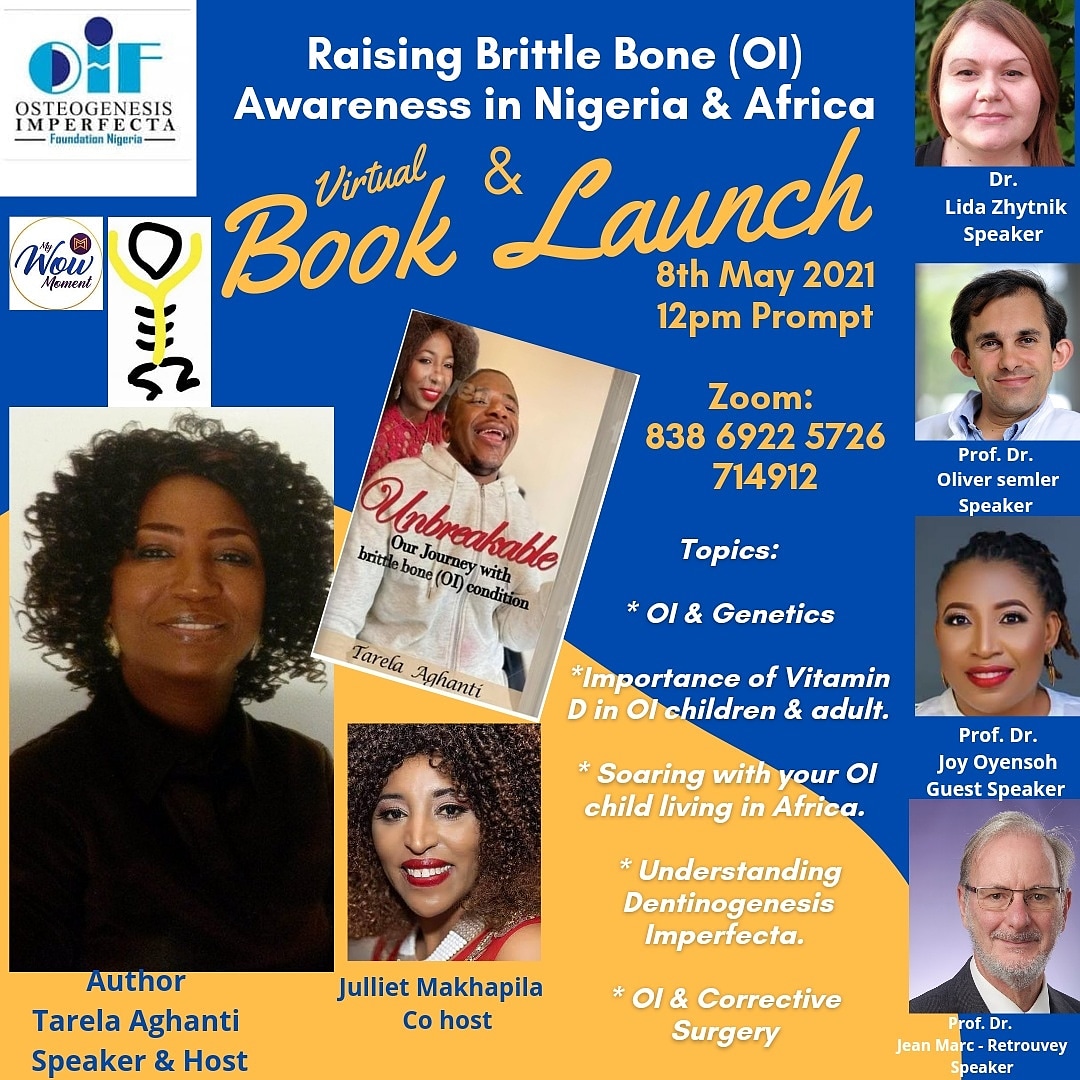 Project Description
Brittle Bone (OI) Awareness in Nigeria & Africa 2021
The event was held on the 8th of May 2021 was informative, educational, and very inspirational, the founder Mrs Tarela Aghanti also launched her book title "Unbreakable" Our journey with the brittle bone condition, she also shared her OI story, which is part of the contents of her book, we are very proud to say her book "Unbreakable" Our journey with brittle bone condition hit Amazon kindle unlimited best sellers on the day.
We would also like to say a huge thank you to all our amazing speakers.
Dr Adolfredo Santana

Spoke on "OI & Corrective Surgery".

Prof. Oliver Selmer

Spoke on "The Importance of Vitamin D in OI children & adults".

Prof Jean-Marc Retrouvey

Spoke on "Understanding Dentinogenesis Imperfecta".

Dr Lida Zhytnik – who has OI herself

Spoke on "OI & Genetics".

Prof Joy Onyesoh

Spoke on "Soaring with a child with OI in Africa".

Julliet Makhapila – African Wonder Woman, founder of the UK Africa Diaspora Forum organisation, and the London Lead Regional Diversity Officer.
Kenyan high commissioner his excellency Manoah Esipisu.
Thank you to our Nigerian OI doctors
Dr Wole Dosunmu
Dr Friday Osawe
Dr Paul Metiah of St John's hospital
Prof Maryann Ibekwe from Enugu
Prof Hafsatu Idris from Kaduna State
Together we are changing the natives of others in Nigeria and across Africa. There has been much positive feedback following the event, it was a great and safe space to learn more about this rare genetic condition. We have found more families living with this condition since the event, who we are now able to support. What an amazing and humbling opportunity to be able to give back to our Nigerian society and across Africa! We believe there is more to be done in terms of giving back and providing support, like medication (zoledronic Acid and corrective surgery).
#UnbreakableSpirit
Recordings from the event
OI & Genetics – Dr Lida Zhytnik
OI from the Nigerian perspective – Dr Wole Dosunmu of St Charles Hospital, Surulere, Lagos, Nigeria
Soaring with a child with OI in Africa – Prof Joy Onyesoh
OI & Corrective Surgery – Dr Adolfredo Santana
The Importance of Vitamin D in OI Children & Adults – Prof. Oliver Selmer