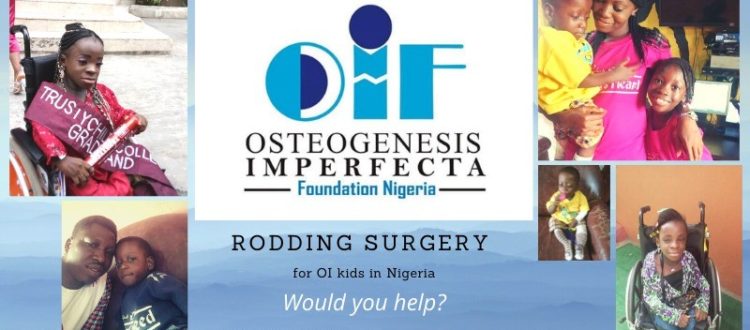 OIFN is raising money for life-changing corrective rodding surgery for 7 children diagnosed with brittle bone condition (OI) in Nigeria. Finding out their kids have this condition without proper knowledge or support from birth has been difficult and devastating for some of the parents and the children. They have hoped things will work out with time but it never did.
Some kids have been abandoned by their fathers leaving their mothers to fend and care for their children alone, some have blamed the mothers, faulting them to be the cause of the children's condition and deformity.
The mothers have found faith and read more about the condition.
In their quest for knowledge and reaching out, they found the organisation. Some of our OI kids have been fortunate to still have both parents supporting them but the journey has been very difficult especially living in Nigeria with little or no knowledge on brittle bone condition (OI) that is why OIF Nigeria has stepped in to support by providing bisphosphonate medication and now fundraising to fly into Nigeria an expert OI specialist surgeon to support with life-changing corrective rodding surgery, collaborating with our local doctors for future treatment. These kids have suffered so many painful fractures in the lifetime and have severe deformation on both arms, legs and other parts of their bodies.
With this life-changing rodding surgery, life for these children will be a lot better and bearable in Nigeria. Please support us today by making a donation to help support the children in Nigeria.
Don't forget to visit our JustGiving Crowdfunding Page! Or use the button above to donate via PayPal.
Thank you for your donation.